ENTREPRENEUR'S CORNER By New York Lifestyles
By Judy Goss
One of the magical things about New York City is that anyone can plant their seed here and blossom into a tremendous success no matter where they are from in the world. Remember Frank Sinatra as he sang, "If I can make it there, I'll make it anywhere…"? I'm reminded of this as I listen to the light-hearted lilt of Sue Phillip's South African accent as she unfolds her story in front of me in her captivating Manhattan Scentarium shop beginning from her remote upbringing in South Africa as a child.
---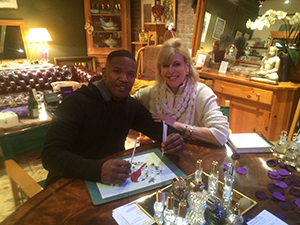 Sue With Jamie Foxx
ACT I
 Sue came to New York City in 1978 to be a singer/actress and to escape the political unrest in South Africa, but without citizenship and no union representation, she had a difficult time getting work. After taking classes as an actress, she was told by someone that she was an unusually talented speaker and was urged to get into the corporate training industry. This was pivotal for Sue, so she worked on getting her green card and before she knew it, she had landed a job at Elizabeth Arden as a national corporate trainer. This opportunity was the catalyst for her future career as (her coined title) a highly regarded "scentrepreneur." But it didn't happen overnight, as most success stories go.  
---
ACT II
 After years of being in corporate America working as a national leader in training for the cosmetics industry, Sue eventually found her niche and second passion (in addition to singing and dancing) in the perfume industry. Don't get me wrong—she still kept her hand in the entertainment industry by singing and dancing in the evenings at cabarets and such, but now her focus was on building her corporate career. And when she was eventually introduced to the fragrance world it took on a whole new light, or…sense, shall we say. But before her fragrance career began, Sue was promoted into color cosmetics from her corporate training position at Elizabeth Arden and started learning about eye shadows, lipsticks, mascaras and how companies are marketing these products to women. "What girl doesn't want to know that stuff, right?" Sue said with a chuckle, then afterward Arden promoted her into fragrance marketing which instantly became her greatest passion. "With lipsticks and eye shadows you can immediately see the difference. With fragrance, it's so intangible, you can't see anything—but you can definitely feel the difference. It reflects who you are." Sue opened up a whole new world for herself, leading to her next venture at Lancôme where as Marketing Director she worked on Chloe, Burberry, and Lagerfeld fragrances. She started to feel a "love and kinship" for fragrances, a much deeper passion than what she had felt with cosmetics and color. Lancôme at the time was very focused on cosmetics and skincare treatment and considered fragrance to be the "stepchild" of the company. But with Sue's obsession for the potential of what fragrance could do for the public's olfaction, she paved the way for Lancôme to eventually make their fragrance department a top competitor in the industry. While at Lancôme, little did Sue know that her career was about to take on an even more high-profile turn and propel her up into the top echelons of the fragrance industry.
---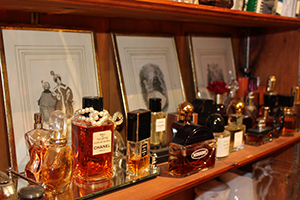 ACT III
 Enter Tiffany & Co. Four years later Sue was hired to be Vice President of Fragrance Marketing to develop and launch the perfume for their 150th anniversary. Within 12 years Sue had come from not knowing anything about the fragrance industry and struggling to find her way in NYC via singing and dancing to gaining a coveted position in the top ranks of one of the most iconic companies in the world. But Sue didn't stop there.  
---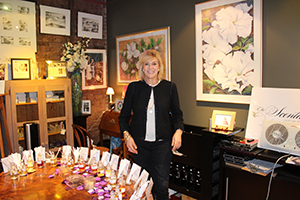 ACT IV
 After leaving Tiffany to have her baby girl, Sue wished to take charge of her work schedule and clients and opened her own business befittingly called Scenterprises, Inc. which captured the essence of her passion for fragrance. Here, she created fragrances for Trish McEvoy, Burberry, AVON, Diane Von Furstenberg and Lancaster and in doing so, made Scenterprises into a global consulting company.  
---
ACT V
 For most people, reaching the pinnacle of an entrepreneurial career as a world-renowned consultant would be good enough, but as a visionary Sue realized seven years ago that fragrances had a different future and she wanted to be leading the pack. She noticed consumers were getting tired of having to choose premade perfume types or a celebrity's choice of perfume that may or may not fit into their personality and scent preference. So Sue capitalized on an evolving future of customized scents for everyone, perfumes that people could create themselves—bespoke fragrances, as Sue calls it. As the world exploded into customized industries from vacations to interior design, Sue awakened her industry to the beginning of tailored perfumes with her picturesque haven of a perfumery called Scentarium located in Downtown Manhattan. The shop hypnotizes the soul with its charm and beauty, enrapturing all the senses with glorious scents, music and exquisite paintings her mother created for her as one of the most talented artists in South Africa. Scentarium clients range from celebrities (Jamie Foxx and Katie Holmes are fans) to six-year-old girls to 80-year-old birthday parties. Also in the mix are Fortune 500 companies who request team building conferences and celebratory events like AOL, Bulgari, COTY and hundreds of other corporations who have hired her to set up fragrance bars at their events for their employees to experience the art of custom perfume creation.
---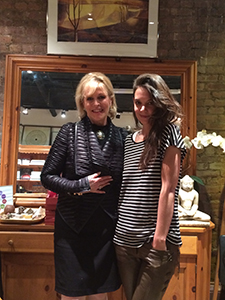 Sue With Katie Holmes
ACT VI
 Besides creating customized perfumes for the world privately and corporately, Sue is an adjunct professor at LIM College, after five years of teaching at FIT, and not surprisingly, is working on her line of fragrance called the Sue Phillips House of Fragrance Collection. She was also nominated as the Fragrance/Entrepreneur 2016 for Fashion Group International, and also 2016 Woman of the Year for T.J. Martell Foundation. Yes, Sue is also philanthropic. The Alzheimer's Foundation is close to Sue's heart, and she is dedicated to raising funds for it, inspired by her mother having had the disease. She has held numerous fund-raising events nationwide for the Foundation, and Sue believes that since fragrance and memory are so intertwined, there could be a cure involving scents with the correlation.  
---
THE FINALE
 Looking back Sue exclaims "If you had told me that growing up in South Africa I would land up being in NYC singing, dancing and working in the cosmetic industry then eventually developing a fragrance for Tiffany, I would have said you're crazy!" I have a feeling the curtain is not even close to coming down yet on Sue's ventures.
---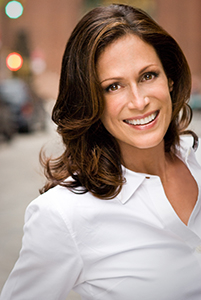 Judy Goss is currently the radio show host of What Women Want with over 500,000 downloads and is a published author of St. Martin's Press. She is also an entrepreneur who founded the nationally acclaimed networking organization Over 40 Females® with its 20 chapters from New York to California. Judy is also a freelance journalist who interviews people about her favorite topic; their personal stories and what inspired them to be who they are today.